CEO is the new name for Any Business

Log in
to play or create
a new account

Get started in minutes with a basic or advanced business simulation. We'll even create your course plan for free!

Limitless customization and fully automated, including amazing coaching and assessment tools.

Any schedule and any class size from 1 to 1,000.
Individual, team, or head-to-head competition.
Join us for an INSTRUCTOR DEMO WEBINAR
Request a personal demo that fits your schedule or join us every Thursday at 12:30pm ET (GMT -4) when we host a demo webinar open to instructors and trainers from around the world. 30-minute instruction and demonstration followed by Q&A. Join from anywhere in the world for free using our Internet webinar service (video not required).
Sign Up
Case Studies
"I don't think I've had a single student who didn't get it since we started using GoVenture CEO ... I can't imagine another learning experience that would be as good."
Read More

Pricing
Free for Instructors. US$29 for Students.
Play an UNLIMITED number of simulations in any number of courses. We'll even create your course plan for free!
PRICING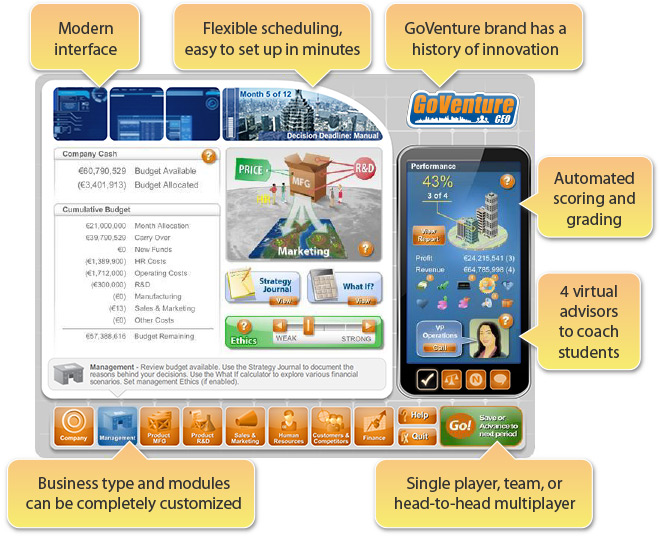 There are many reasons why instructors choose
GoVenture CEO over other business simulations.
Here are the 3 biggest reasons ...
EASY
It is REALLY easy to get started for both students and instructors. Even though the simulation has deep features, you can be up and running in minutes. Busy instructors can even choose to "set it and forget it."
ENGAGING
Students do not feel like they are just plugging numbers into a "glorified spreadsheet." GoVenture CEO strikes the perfect balance of a modern and visual interface, while excluding superficial features and complexities.
VALUE
Play unlimited simulations and every simulation can be in a different industry and market because GoVenture CEO is completely customizable. Add free support materials, assessment tools, and super-responsive customer support, and you cannot find a better value than the GoVenture CEO price of US$29 or less for student accounts.